A Rental Continuing Care Retirement Community in Wilmington, Delaware
Shipley Living is a full-service, rental continuing care retirement community nestled in a thriving Wilmington neighborhood close to shopping, restaurants and entertainment. Our highly desired rental model means there's never an up-front endowment or purchase required, but, because we're a continuing care community, residents still enjoy the benefits of having advanced levels of care conveniently available when it's needed, right on our campus.
Contact Our Team
Our Leadership Team
Our team is dedicated to providing a community of loving care and exceptional experiences for the seniors we serve. Click below to learn more about each of our community leaders and how they impact the lives of our residents and their family members.
Nancy came to Shipley with more than 22 years of experience in nursing. "I started working here with an agency. I liked the community and the team's work ethic a lot, so I applied to work here directly," she said. Nancy explained why she works in senior living, "I like advocating for individuals who might not be able to do so themselves." She added, "The residents have great stories. I love talking to them and learning a lot." Nancy describes herself as being a "hard worker" and said teamwork is important to her. "I love working with people who are willing to do the job. The team here works hard and knows how to care for people and treat them with respect."
New to senior living, Keisha loves her wonderful team and funny residents. Describing herself as "loving, caring, dedicated, and family-oriented," Keisha said she is honored to have the responsibility of filling the community and creating a waitlist. She loves the opportunity, she said, of "helping my senior saints find a new home."
Before coming to Shipley Living, much beloved Chef Cy set the culinary bar high at our sister community Millcroft Living, for four years as the Executive Chef. As Food and Beverage Director at Shipley for the past five years, Chef Cy said his responsibilities are "to ensure that Shipley dining experiences are memorable. Great food and service with a smile are the best." Describing himself as having a cheerful disposition, Chef Cy said, "Food brings people together. I love to entertain and showcase my culinary talents to the residents."
New to Shipley, Jim is in charge of maintenance, housekeeping, security, and transportation. As an organized and dedicated person, Jim helps the residents with whatever they need. He said his favorite part of the job is "working with the residents daily and creating friendships."
Jazmine ensures that residents' psychosocial well-being needs are being met and that short-term rehab residents have safe and successful discharges to their homes. Describing herself as "funny and a go-getter," she said she "likes being able to advocate for our patients, showing them that they matter."
Susan has been ensuring the nutritional wellbeing of the healthcare residents at Foulk Living/Shipley Living for ten years. The registered and licensed dietician monitors residents for their healthcare needs and making appropriate nutritional recommendations while meeting state requirements. She attends care plan meetings and collaborates with residents and their families. In addition to meeting nutritional requirements, it's important to Susan that she is also meeting the dietary preferences of the residents. "I work with the interdisciplinary team in making the best decisions for our residents to assure the best quality of life possible," she said. "I consider myself organized and willing to share and help implement any ideas that will promote a better life for our residents."
Jameca has been with Shipley for five years, overseeing human resources and payroll. Describing herself as 'focused, hospitality-driven, and dedicated," she said her favorite part of her job is getting to know the employees and helping them understand policies and procedures.
Dom said that the Shipley team pitches in and helps wherever and however needed. She's the perfect example, having worked in transportation, activities, and at the front desk over the past five years. As the Business Office Manager, Dom is currently in charge of the day-to-day financial operations, including insurance verification, billing collections, and ordering. Describing herself as a down-to-earth and caring person, Dom said that she is most motivated by the opportunity to put a smile on someone's face, and her greatest joy is contributing to seniors' happiness. 
As the Assistant Director of Nursing, Marilyn is responsible for supporting the Director of Nursing in running the clinical unit of Shipley Living. Marilyn, who describes herself as being "bubbly, outgoing, and easy to talk to," has worked in senior living for eight years. She said what she enjoys most is "making a difference in the lives of residents and the staff by helping them be the best they can be day in and day out."
Award-Winning Management
Shipley Living is managed by Life Care Services®, a nationwide leader in senior living with more than 50 years of proven experience. In 2022, Life Care Services earned the J.D. Power award for Customer Satisfaction in Senior Living among independent living residents for the fourth consecutive year. In resident satisfaction surveys, 95% of all residents would recommend a Life Care Services managed community to a friend.
Explore Life Care Services
Foulk Living
Located on 10 wooded acres with beautiful streams and parklands in a residential area just north of Wilmington, Foulk Living is a rental continuing care retirement community offering independent living, assisted living, memory care, and skilled nursing.
Learn More About Foulk Living

Millcroft Living
Close to a variety of public parks and pools, Delaware's wonderful beaches, and an array of cultural attractions, Millcroft Living in Newark, Delaware is a rental continuing care retirement community providing independent living, assisted living, skilled nursing, and rehabilitation.
Learn More About Millcroft Living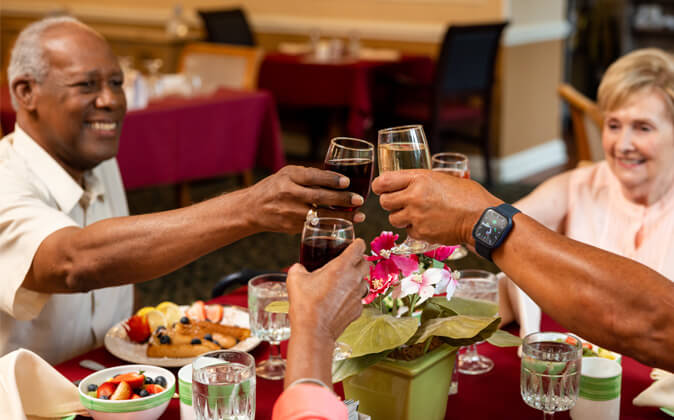 Have Questions About Shipley Living Retirement Community?
We'd love to hear from you! Just reach out to our expert team and we'll be happy to help you in any way we can.
Contact Our Team